Accountant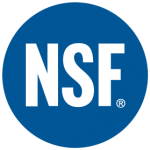 Accountant
At NSF, our mission is to protect and improve human health. We're a global leader in standards development, testing, auditing, certification and training. We provide these services for a diverse set of industries including food, water, health sciences, sustainability and management systems. We're passionate about the work we do, because together, we have a broad impact on our world.
Our nearly 3,000 employees provide services in over 170 countries through our many global offices, at our client sites, from home offices and in state-of-the-art laboratories. We're growing fast, and that's where you come in. Come join our team.
NSF is focusing on food safety and quality for clients in catering, retail, etc. for which they offer services ranging from auditing to product development, training and legal compliance on national as well as European Level.
In order to strengthen our Accounting and finance team, we are looking for an Accountant.
Basic Purpose: Prepare and book all financial records for 1 legal entities under the supervision of the Accounting manager.. Back-up of the AR representative.
Principal Accountabilities:
Follow-up of general accounting and auxiliary accounting
Responsible for general ledger month-end close tasks for 1 legal entities. Review general ledger activity, enter and update journals entries
Performing balance sheet reconciliations and serve as back-up for AR representative
Performing account reconciliation for tax, cash, prepaid accounts, payroll, fixed assets
Be a key user for the ERP system
Preparation of fiscal declarations (VAT, IS, CVAE, CFE, DEB, DAS2, TVTS etc…), accounting and payment
Reconcile VAT accounts with final declaration
Reconcile bank statements (Coda)
Assisting the Acccounting manager for the year-end closing (statutory accounts – auditor requests – CIT documentation)
Registration of supplier invoices, entry of fixed asset entries
Management of customer and supplier accounts in relation to the concerned departments
Control and accounting of expense reports (Concurr)
Preparation of CA3 and DEB, DAS2, TVTS
Other administrative duties when required
Qualifications
Required Qualifications:
BAC +2/3 degree with at least 5 years experiences in Accounting (French GAAP)
Good analytical skills
Excel
High level of accuracy and integrity
Good knowledge of French and English
Preferred Qualifications:
IT minded with knowledge in Oracle – Ipusle – Concurr
Extensive knowledge of VAT
Physical Demand:
This position required long hours in front of a computer.
Work Environment:
Lille (France) or Belgium
WHAT NSF OFFERS YOU
If you want to be part of a dynamic team and work in a pleasant atmosphere with a common goal: together focused on client satisfaction, then this opportunity is for you.
We do this in a challenging industry with regards to food, sustainable and quality food. We're passionate about our job and together we have a broad, positive impact on our world.
At NSF you will continue to grow your expertise and share your knowledge with your colleagues, so send us your CV and motivation letter in English and you will have the opportunity to brainstorm on hot topics such as food safety, nutrition score, food legislation, etc…
Pour postuler, envoyez votre CV et votre lettre de motivation par e-mail à nsfcareers@nsf.org