Account Manager Product Certification (Chemicals & Equipment) EMEA – Remote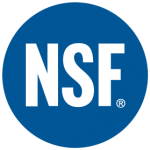 Location: Belgium (German speaking part) – France – Germany – Bulgaria/Romania
At NSF, our mission is to protect and improve human health. We're a global leader in standards development, testing, auditing, certification and training. We provide these services for a diverse set of industries including food, water, health sciences, sustainability and management systems. We're passionate about the work we do, because together, we have a broad impact on our world.
Our nearly 3,000 employees provide services in over 170 countries through our many global offices, at our client sites, from home offices and in state-of-the-art laboratories. We're growing fast, and that's where you come in. Come join our team.
Description
NSF provides an extensive range of services for the food equipment industry to help ensure the quality and safety of products in the marketplace. Separate from helping to facilitate consensus-based standards, NSF's Product Certification programs test and certify products such as commercial food equipment, non-food compounds (lubricants, sanitizers,…), organic foods etc
Our global offices provide comprehensive services, quality support and superior knowledge to help our clients to grow their business while saving time and money.
Are you interested in helping to improve the quality of products used in food industry (food safe lubricants, cleanable kitchen equipment, etc)?
To support and further ensure excellent services to our clients, we are looking for an Account Manager Product Certification (Chemicals & Equipment) EMEA (m/f/t).
As Account Manager Product Certification EMEA, you will be the main point of contact for our clients to assist them in all administrative and practical aspects of the certification project, and you will coordinate with NSF departments (labs, auditors,.. ) to move the certification project to completion.
In a first phase the focus of your work will be in the registration program for chemicals used in food processing; in a next step you will be trained also to assist customers in the Certification of food equipment for commercial kitchens.
PRINCIPAL ACCOUNTABILITIES
In this role, you will report directly to the EMEA Business Lead Product Certification and your responsibilities will include:
Manage customer projects accounts with high impact and/or complexity
Nurture client relationships
Provide guidance on certification requirements (toxicology, design, testing) and timely support to achieve certification
Perform compliance verification reviews on equipment, and formal audits to customers
Pre-review and entry of customer and product details in NSF software systems
Internal coordination with all stakeholders (business units, lab, technical reviewers, etc.)
Identify and procure new business or cross-selling opportunities with assigned customers
Trend analysis to identify areas of improvement
REQUIREMENTS:
QUALIFICATIONS, SKILLS, AND EXPERIENCE
Bachelor's degree, or equivalent experience
Preferably a few years' experience in a client-facing role in a services industry
Technical background is a plus – Understanding of regulatory affairs or willingness to learn
Committed to service excellence – Always looking for solutions to assist the clients
Result oriented – Ability to autonomously manage projects, ownership
Attentive to detail – Excellent organizational and coordination skills
Strong interpersonal & communication skills
Collaborative mindset, team player
English (working environment language) and German mandatory, French and/or other European languages a plus
Excellent knowledge and use of Microsoft Office suite
Willingness and ability to travel (approx. 20%). This is a remote function with regular visits to our EMEA clients.
WHAT NSF OFFERS YOU
If interacting with and supporting clients gives you energy, if you have a strong interest in the food equipment industry and want to be part of an entrepreneurial, international and multicultural environment and if you are interested to contribute to public safety, this opportunity might be the one for you!
We offer you a position in which you will be in contact with customers active in different domains within the food equipment industry and coordinate their certification process from A to Z. You will get the chance to support clients in the EMEA region and make a difference to their business.
You may expect a role in a well-established organisation within a highly evolving and dynamic industry.
Are you the enthusiastic Account Manager that takes customer satisfaction to a higher level?
Apply now! Reach out to us by sending your CV and motivation letter in English. Looking forward to talking to you soon!
For more information on what NSF can offer you, please watch https://www.youtube.com/watch?v=0l5_OszUbIg