As an operator in the food chain, you have an important responsibility in ensuring the safety and quality of your product. You also need to ensure flavour and consumer loyalty, and increase your market share to remain sustainable.
Consumers want a personal approach when it comes to food. They want detailed information about what's in the product, which requires full traceability, accurate labelling, and specification and supplier management. It's crucial to differentiate your products from competition, adapt to changing consumer habits, provide accurate nutritional requirements, address social responsibility and animal welfare, and agilely and quickly respond to any consumer concerns.
We can help you address these concerns and solve many daily challenges such as how to:
Ensure that the products you develop will be successful and have high market share
Ensure consistent food safety
Deal with increasingly higher legislative requirements for allergens, labelling and traceability
Shorten the time to market for new products to be ahead of the competition
Manage complaints and food scandals or crises
Make sure your suppliers are trustworthy and deliver the quality of food you have agreed upon
Make sure your sustainability goals are reflected in the products you produce
Keep up with training requirements
NSF is the Key to Success in the Food Business
When you work with us, you gain access to an experienced network of consultants and specialists who can deal with any endeavour that comes along.
We provides a broad spectrum of services to help you succeed in the food sector: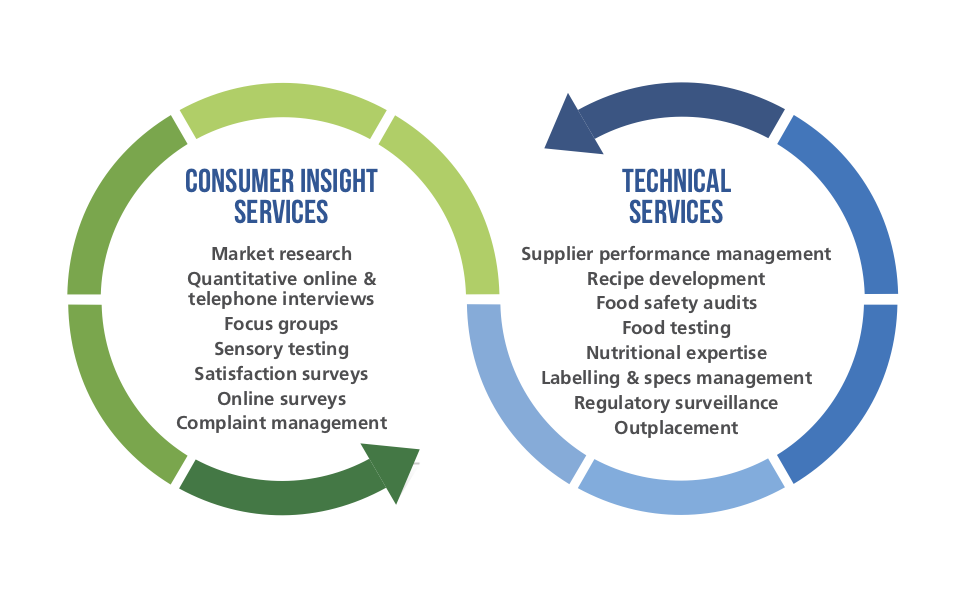 Consumer Insight Services
We can help you develop food recipes based on your consumers' preferences, perform sensory testing of those recipes with your target customer profile, organize focus groups, conduct quantitative online and telephone interviews, organize mystery shopping visits, implement customer satisfaction surveys and handle complaint management. We work with you throughout your product life cycle to make sure your product succeeds in the market.
Technical Services
We provide food safety and supplier audits, nutritional consultancy, labelling and specification management, and hygiene, quality and safety audits. We write quality procedures and food safety manuals, implement these systems through training and audits, provide laboratory analysis for your food samples, and help you with crisis management related to foodborne illnesses. We also provide other advisory services in food safety and Legionella risk management as well as outplacement for food safety and quality positions in your department.
Why NSF?
By letting us take care of daily routines and quality and technical control tasks, you can focus on adding real value to your business and improving your company's ability to grow. You will be sitting in the cockpit, thanks to our management tools and dashboards, while we take care of executional tasks and feed you performance indicators to make the right decisions.
By Choosing NSF You Will be Able to:
Produce and launch successful products with high adoption rates by your target consumers
Better address requirements for food safety, labelling and specification management
Focus on your strategic level responsibilities while being provided hands-on information to feed your management decisions
Concentrate on high-level, value-added responsibilities
Have a clear view of quality control and assurance activities and report concise information to your management team
Control your budget and allocate your limited resources more efficiently
Get in touch with one of our experts: