Celebrating 75 Years of Protecting and Improving Human Health
In 2019, NSF celebrates 75 years of protecting and improving human health.
Founded in 1944 as part of the University of Michigan's School of Public Health, NSF has evolved from a small foundation focused on standardizing sanitation and food safety requirements to a global not-for-profit organization committed to protecting human health and safety worldwide.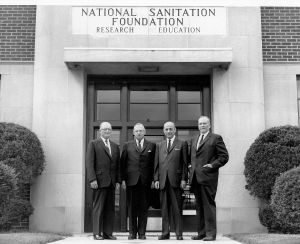 Over the years, NSF has worked alongside government agencies, academic institutions, and public and private organizations to address the world's most important public health issues.
Today, NSF employs more than 2,800 professionals worldwide – including engineers, microbiologists, toxicologists, chemists, public health experts and certification specialists. Together, we facilitate the development of public health standards, and test, audit and certify products for the food, water, health sciences and consumer goods industries to minimize adverse health effects and protect the environment.
Join us throughout 2019 as we celebrate 75 years of protecting and improving human health.