NSF Sponsored the Ingredients Show in Romania
Maintaining a market is just as important as entering it. Creating a new product, knowing its qualities and market niche, and preserving its competitiveness in the market are all important investment activities for any company. NSF was a  GOLD partner of the conference Ingredients SHOW 2018, where Giorgiana Jelescu, Managing Director of NSF's food safety consulting services in Romania, discussed its services both at the stand and in the presentation Sensory Analysis – Essential Factors in Development and Innovation of Foods.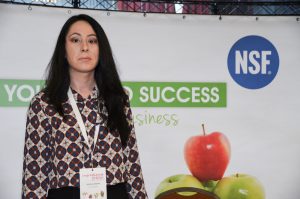 NSF has the experience and competence to assist food companies in all challenges as well as risk management, offering the best brand protection through its public health defense mission and through the most comprehensive solutions across the supply chain.