NSF's Brussels Conference
NSF's annual conference in Brussels was held on October 17 at the business center, Le Cercle de Lorraine. This year's theme was transparency in the food chain, which is currently a hot topic in the food industry.
It was a pleasure for NSF to bring together the major players in the retail sector, the food industry, public services and other stakeholders.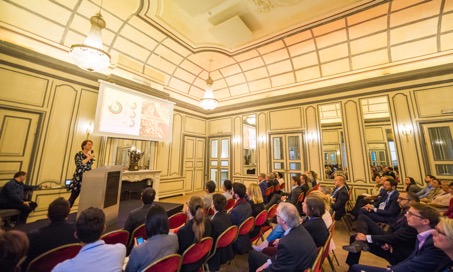 Our annual conference was attended by the Federal Ministry of Agriculture and leaders from the AFSCA, professional federations (COMEOS), consumers associations and the private sector (Sodexo, Carrefour, Delhaize, Colruyt, Greenyard and Cargill), among others.
Presentations covered different perspectives on transparency in the food sector. Samid Sidis, the Chief of Staff of the Ministry of Agriculture in Belgium, talked about the current approach of the Belgian government. Céline Grena, the Commercial Head of the Nielsen Company Belgium, gave insights into what consumers are looking for. Manickam Kannappan, NSF's Senior Director of Business Applications, presented how blockchain can meet the expectations of companies and consumers with a demo of an app.
The conference was followed by an open buffet and networking session, where representatives of the food sector could exchange ideas and build synergies.
We are looking forward to hosting the event next year around another interesting topic!