Value of NSF Sanitation Certification of Food Equipment
Why NSF Sanitation Certification of Food Equipment Is Valuable
An interview with Laura Cazzola, explaining the value of the NSF certification in North America and why public health officials look for the NSF mark.
Laura, as the leader of the NSF Food Equipment Certification business team at NSF Europe, can you tell me what exactly the NSF sanitation certification is?
NSF's sanitation certification of commercial food equipment covers the food safety aspects of restaurant and commercial kitchen equipment. It demonstrates an independent, third-party verification that the equipment is safe to use to prepare, store, display and serve food to consumers: the customers of restaurants, retail stores, cafeterias and other food service establishments. It is based on the FDA Food Code.
 So it's a U.S. certification, then?
Yes, but it goes far beyond this. Today it is indeed most prominent in North America because it's based on the U.S. FDA Food Code. This sets legal requirements for food service establishments, confirmed by public health inspectors. It's also accepted in Canada, where similar requirements exist.
Outside North America the mark can also be found. For example, at U.S. military bases, on cruise ships and at quick service restaurants – anywhere where buyers require an independent third-party validation of food-safe equipment. Let's say that the NSF mark has value worldwide because it covers general hygienic design and food safety principles.
We understand that food safety is validated, but which aspects does the certification check?
The NSF certification of equipment covers three aspects. Firstly, the materials, most importantly those in contact with food. Secondly, the cleanability, or hygienic design. And thirdly, the food safety performance. Depending on the type of equipment, one, two or all three of these elements apply.
The materials in contact with food and beverages are reviewed for their specific end use; this is primarily based on FDA 21 CFR (Code of Federal Regulations Title 21) requirements.
The verification of hygienic design ensures ease of cleaning and protection of food and beverages from contamination. We also ensure that we can eliminate shelter for insects, rodents and other pests and vermin.
Finally, the performance of equipment is tested — with regard to functionality. As that can be a risk to human health, we look at aspects such as the equipment's ability to keep food hot or cold, and at the correct temperature. We also validate clean-in-place (CIP) procedures.
How do you ensure the continued compliance of the equipment?
That is a good question! We pride ourselves on a very robust certification process. Our clients value this too as it can really help them to showcase their commitment to safe food equipment. Once the equipment is certified, the process is ongoing. NSF carries out annual, unannounced audits at the factory where the equipment was made to ensure that good manufacturing practices have been applied and that no changes have been made to the certified equipment, and also to check that the NSF mark is displayed correctly on the actual equipment. This ensures consistency in that the equipment leaving the factory is what has been certified and uses the same food contact materials. This is extremely valuable in giving the clients of our customers peace of mind that they are buying equipment they can trust.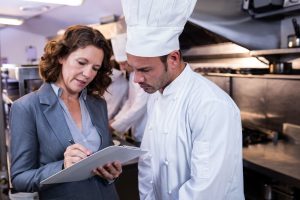 We understand that the NSF certification meets the regulatory requirements of the U.S. market, but how are these checked?
In North America, public health officials regularly carry out inspections of food establishments against local and national requirements based on the FDA Food Code. The main purpose of this is to eliminate the potential health risks of consuming food or beverages that are prepared, served or stored at an establishment where cross-contamination or improper food storage and storage temperatures may be present.
If any critical issues are identified and an establishment is forced to close (or to delay opening), this can have far-reaching consequences for its owners and operators.
So that's why quick service restaurant chains and other food service establishments prefer or require NSF-certified equipment.
Can you tell us a bit more about this legal background, the FDA Food Code?
In the U.S. there are over 3,000 state and local public health agencies, which are responsible for regulating the retail food and food service industries. They inspect and oversee more than one million food establishments, including restaurants and grocery stores as well as vending machines, cafeterias and other outlets in health care facilities, schools and correctional facilities.
The U.S. Food and Drug Administration assists these regulatory agencies and the industries they regulate by providing guidance, training, technical assistance and, above all, a model Food Code. This Food Code contains the legal requirements for aspects related to food safety, including food equipment. It's been adopted by every U.S. state, and in Canada similar codes and regulations are also in force.
Finally, how can buyers check the NSF certification of a product?
An online, up-to-date listing of all certified food equipment, trusted by inspectors and buyers who check and select equipment, can be found on the NSF website.